DIY Plywood Bedside Shelves with Gorilla Wood Glue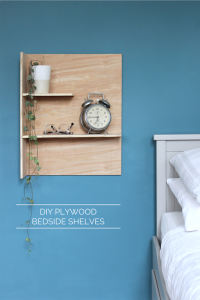 Since we swapped our old double bed in the guest room for a Hemnes daybed from Ikea to free up some floor space, we've needed to come up with a bedside table solution. The drawers pull out to turn the single bed into a double, but once we've done that there isn't space for a bedside table between the bed and doorway, so we decided a wall-mounted option was our best bet. We chose our favourite DIY material, plywood, swapped our usual drill for Gorilla Wood Glue, and got building. Gorilla Wood Glue is the perfect adhesive for this project. Not only this is a glue design for bonding wood it also have a short time to bond. And on top of that Gorilla Wood Glue offer a tough and durable bond so you don't have to use any screw or nail (Perfect for someone like me, who dislike using heavy tools such as a drill  ↖(^▽^)↗ )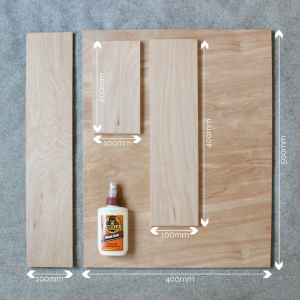 I sketched out a super-simple design for a wall-mounted bedside shelf – it was made up of just four pieces of plywood (dimensions above) and then all we needed was a bottle of the wood glue to assemble it.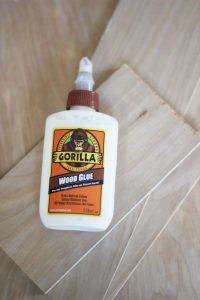 Directions:
Apply Gorilla Wood Glue down one long edge of the side panel (500mm x 100mm) and position it lining up to the left edge of the back panel (500mm x 400mm). Clamp in place.

Take the longer of the two shelves (400mm x 100mm), apply glue along one long edge and one short edge and press it into the corner between the side and back panels, a third of the way up from the bottom of the back panel.

Repeat with the short shelf (200mm x 100mm), and glue a third of the way from the top of the back panel.

Place a large, flat piece of board on top of the whole unit, and weigh down with heavy objects for at least 30 minutes (or in my case, while I watched a whole episode of Game of Thrones) until the glue has set.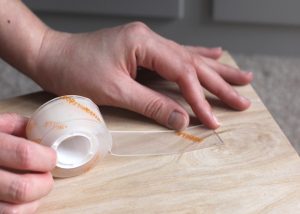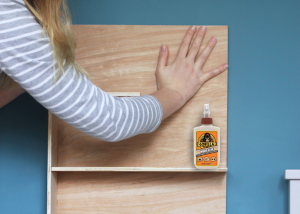 The shelves felt good and solid – a little of the excess glue was visible on a couple of the edges, but it had set clear, not the orange colour you usually get with wood glue. I fixed the shelf to the wall using Gorilla Heavy Duty Mounting Tape. Don't use this if you want to remove the object any time soon – this mounting tape is so strong my shelves are fixed there for good. I'll admit that this was probably a bit of an OTT solution, but I always like a shortcut, and it saved having to go and get the drill.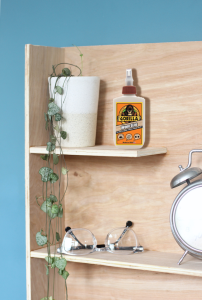 So what did you decorate your bedroom with ? Please share with us, I can't wait to find out with did you do with Gorilla Wood Glue =))