An Easy to do DIY with Black Gorilla Tape
Like many of you, I love taking simple household products and using them to create amazing crafts projects. Extra credit if the DIY project is inexpensive and takes less than half an hour!
After picking up a couple rolls of Black Gorilla Tape from Home Depot the other day, I decided to create some easy DIYs featuring one of my favorite trends–black and white stripes! Today, I'm sharing two of these easy crafts with you–a simple monogrammed canvas and a decorated tissue box holder!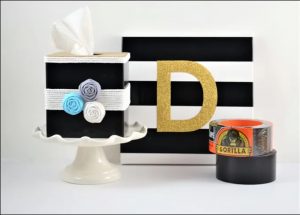 I used Black Gorilla Tape because I love that it's made with double-thick adhesive and can stick to virtually any surface, including wood, stone, stucco, brick, metal and vinyl. It's perfect for simple repairs, as well as easy duct tape crafts!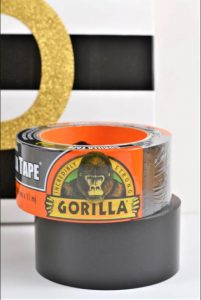 Now, I'm going to share my two easy craft ideas using Gorilla Tape, starting with this simple monogrammed canvas!
Here's what you need:
Black Gorilla Tape

12×12 Canvas

Glitter Initial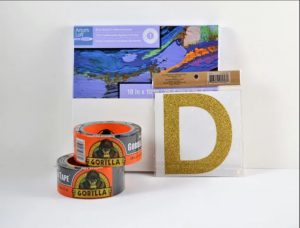 First, tear strips of Gorilla Tape and place them evenly across your canvas. Press firmly in place. I used three strips of Black Gorilla Tape for my 12×12 canvas, but you may want to vary the number depending on the size of your canvas.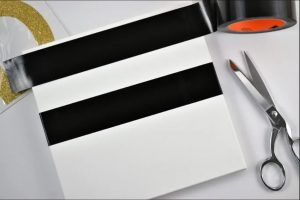 Then, place your glitter initial in the middle of your canvas. Can't find glitter initials? No problem! Just grab a wooden initial and use Mod Podge and glitter to cover the initial, and glue it to your canvas. If you don't love the look of glitter, you can decorate your initial with scrapbook paper instead!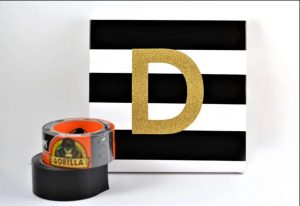 Super cute and easy, too! This would be perfect for a nursery, gallery wall or used as baby shower decor!
Next up, Black Gorilla Tape gussies up this adorable paper mache tissue box holder. This took literally 10 minutes to put together!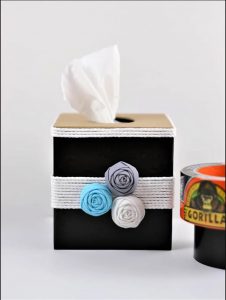 Here's what you need:
Black Gorilla Tape

Tissue Box Holder

Twine, Rope, Ribbon or Yarn

Fabric Embellishments

Tissue box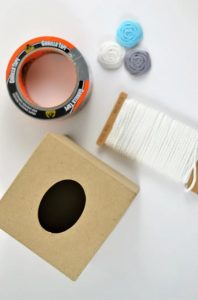 First, take your Black Gorilla Tape and lay down two lengths, fully going around the tissue box holder. Press firmly in place. Then, take your rope (I used a very thin white rope) and wrap it around the remaining part of the tissue box holder, hot gluing in place in the back.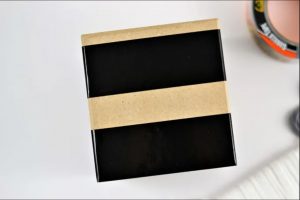 Hot glue your embellishments (I used rolled fabric flowers, but pom poms, seashells, a wooden initial or anything would do!) to the center of your tissue box holder.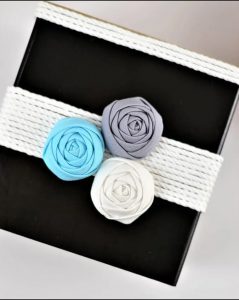 Isn't it adorable?! What a FUN, simple, and inexpensive way to add some color and style to your bathroom. Vary up the colors and embellishments to fit the theme of your bathroom.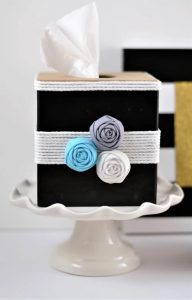 Black Gorilla Tape was the perfect starting point for these easy crafts. The touch, reinforced backing gives it a tight weave that contributes to the strength, but I love that Black Gorilla Tape can still be torn by hand. It also can withstand moisture, UV rays and temperature changes, making it perfect for indoor and outdoor projects alike!
What repair or DIY project would you use Black Gorilla Tape for?
Thanks for reading all about my easy Duct Tape Crafts. Have a fantastic day!