DIY Mug Rack with Original Gorilla Glue
Sometimes I don't realize my attraction to a style of decor until it shows up a dozen times in my Pinterest boards. Recently I noticed I had saved quite a few nurseries with house-shaped shelves on the walls and cute little knick knacks on display in the cubbies. (This and this were two of my favorites.) I realized how much I loved the simple object with a whimsical shape, and decided I would make one for my home—but this shelf wouldn't be banished to the kids' rooms. I modernized it a bit with a symmetrical grid-style and sleek black paint, and now it fits in perfectly with the rest of my kitchen decor! It was a pretty simple project to complete, as well. The hardest part was waiting for paint to dry. Check out my instructions to make one for yourself or to give to a friend.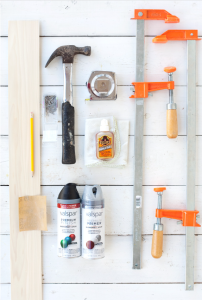 Materials:
Four 1/4″ x 1″ x 4′ boards (I bought mine from Lowes and selected poplar, a nice sturdy wood that won't dent and takes paint nicely.)

120–150 grit sandpaper and 350-400 grit sandpaper

Primer + paint of your choice, or stain and sealer

Clamps (at least 20″ long)

Tape measure

Pencil
Once you gather all of the material here are the steps:
Step One: Cut your 1/4″ x 4″ boards to size. I cut mine at home with a miter saw, but you can have your lumber cut for you at the lumber yard/hardware store. Just watch closely and make sure they're being precise or it will throw everything off balance. And be extra nice, because that's a lot of cuts for them to do for free! Some lumber stores charge a minimal fee for cutting if you want more than just a couple of cuts.
The pieces you need cut are shown above, and the measurements are listed below. Note which pieces have 45˚ mitered edges.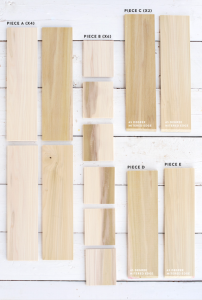 4 A pieces: 13″

6 B pieces: 4 3/16″ —You should cut two extra B pieces to use as spacers throughout assembly process. This makes the total you need 8 pieces.

2 C pieces: 13 5/8″ with a 45˚ mitered edge (the length noted is the longest part of the mitered edge)

1 D piece: 12 1/4″

1 E piece: 12 9/16″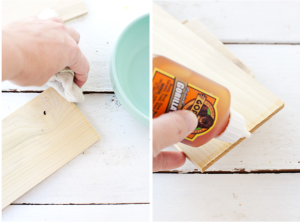 Step Two: Glue together the sides of the house shape with the horizontal interior shelves. Since I only have two long clamps, I had to work in segments.
To activate the Original Gorilla Glue, you will need to wet the areas of the wood that need to be adhered. I used a wet rag to do this. To space the horizontal shelves, I used extra B pieces of wood, as shown below. This works out much better than measuring and marking, and as long as all of your B pieces are the same size (and they need to be), this is as accurate as you can get with spacing.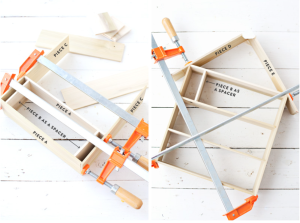 You will need to apply pressure to the Original Gorilla Glue with clamping. This causes the glue to penetrate the wood and bond the pieces together. The Original Gorilla Glue will foam and expand as it is activated, so be sure you wipe away any extra because it dries very hard and is difficult to remove. After the horizontal shelves and the pitch of the house have been glued and the Original Gorilla Glue has been cured (at least two hours before removing clamps), then glue your vertical shelves (B pieces) into place in the same way, using spacers from the outside edges and clamping once in place.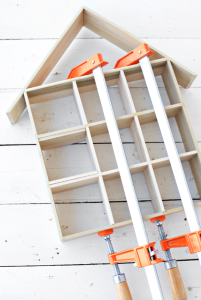 Step Three: Sand down the entire piece, getting rid of any splinters and uneven places where the pieces of wood meet each other. Use 120-150 grit sandpaper for this.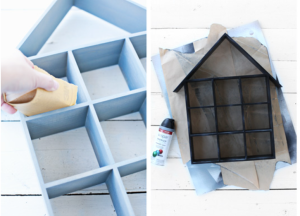 Step Four: Prime and paint the shelf. After a nice coat of primer, sand down the entire shelf with 320-400 grit sandpaper. This will make the surface really sleek and smooth. If there are any areas where raw wood is showing through the primer, spray a little more on in those places. Then apply a few light coats of your final paint.
Step Five: Finish off the piece with hangers on the back, and it's ready to hang!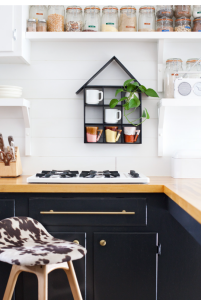 My shelf perfectly fits mugs from my collection, but if you are planning on making this shelf with larger mugs, (anything that wouldn't fit into a 4″x4″ space), then you might want to add length as needed. Just wanted to make sure you knew that before making this shelf and bumming when your mugs don't fit.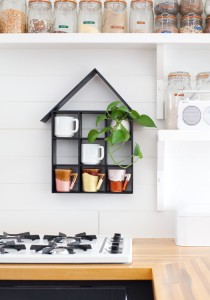 It adds the perfect pop of whimsy to my kitchen, don't you think? This could work in any room of the house as storage or just for display. Who knows—I might make one for the kids' rooms after all!