Clear Gorilla Glue – DIY Pedestal Candy Jars
Whether you're planning a birthday party, a baby shower, a wedding or simply styling a seasonal desserts table, pedestal candy jars are a must to take your desserts and candy to new heights. Literally!
These pedestal glass vessels have become a must-have in all desserts tables we encounter nowadays, but they can be quite pricey. So we decided to make our own to show you that you don't need to break the bank to create a stunning display for your next party!
And they make great Mother's Day DIY gifts too, don't you think?! 😍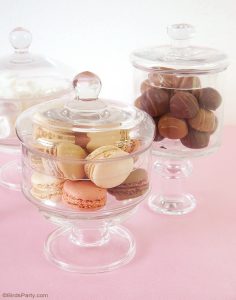 Making your own pedestal candy jars or apothecary jars as they're also known, is easier than you think! Check out the easy DIY steps below to see how can you easily decorate your dessert party!!!
These pedestal candy jars or apothecary jars can be used to display and serve candy, desserts at parties, but are also super chic when used to decorate your home. Think about filling them with craft supplies, kitchen provisions, home décor items, toiletries, jewelry…or they can even used as candle holders!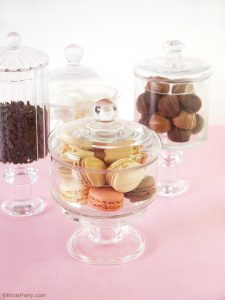 Come to think of it, these gorgeous jars would make great wedding or bridal DIY gifts too! What's not to love?! 😍
The idea of this craft project is to glue any glass vessel to a glass candle stick to create a chic display pedestal jar. So you can totally up-cycle any empty glass jars you may already have at home. The glassware and candle sticks used in this project were thrifty finds!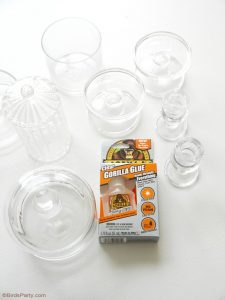 For this DIY project we used the Clear Gorilla Glue adhesive. Clear Gorilla Glue is a incredibly strong, crystal clear, water resistant, non-foaming. Clear Gorilla Glue is ideal for both indoor and outdoor applications and bonds virtually everything – Wood, Stone, Metal, Ceramic, Foam, Glass,…
So the Clear Gorilla Glue adhesive is perfect for this craft project, where we're adhering clear glass to glass, which a non-clear overspill would be a challenge and wouldn't look so great!
Plus, Clear Gorilla Glue doesn't foam or expand as it cures, making it great for this project. After all, these candy jars need to look their best to enhance your party tables, right?!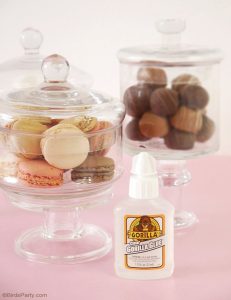 DIY Pedestal Candy Jars With Clear Gorilla Glue
Materials:
* Clear Gorilla Glue®
* Glass jars, bowl or serving dishes of various heights and widths (from thrift store or you can up-cycle old jam jars etc)
* Glass candle sticks of various widths to accommodate the weight, size and widths of your glass bowls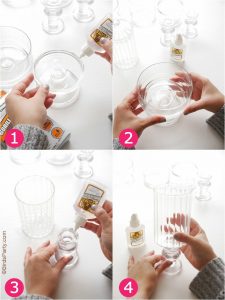 Directions:
1) Begin by cleaning all your glassware surfaces well with soap and water. Dry thoroughly, then apply a generous layers of Clear Gorilla Glue to the candle sticks.
2) Place a glass bowl onto the center of the glue stick and press firmly for a few seconds. Leave to cure for 24 hours before using.
3) Repeat the gluing process for the smaller candle sticks.
4) Add a taller vessel/bowl to the center of the candles stick. Let it dry and cure for 24 hours before using.
And done, that is it. So easy and cheap right.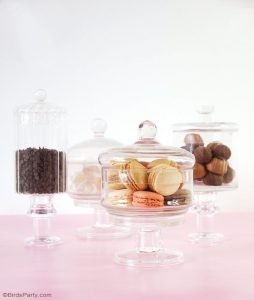 Now it's your turn, show us what you made!!!