Clear Gorilla Glue the tool to fix everything!
Have you ever broken something you really didn't want to break? My intention is never to break anything, but sadly it happens – and recently I dropped a precious glass dessert plate that my mother gave me as a housewarming gift. Luckily I was able to fix it with Clear Gorilla Glue®!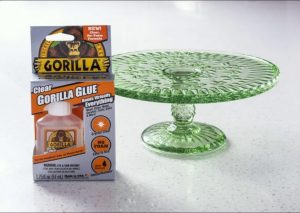 I was pulling the dessert plate out of an upper cabinet to use, and it slipped out of my hand and dropped and hit the top of the fridge. It wasn't enough to shatter the item (thank god for that!) but it was enough to break off a portion of the stand. I was SO upset.
Though I quickly realized, "wait a second – Clear Gorilla Glue!" Yes . . . Clear Gorilla Glue makes a very strong crystal clear formula perfect for bonding glass together. I realized this would be a perfect application for the glue and would save my dessert plate.
Why Gorilla Glue?
I've always had success with Gorilla Glue for home repairs and for various DIY projects that I've done. I was sure that if I tried the clear formula, it would work well – and I was right! What drew me in was that it's crystal clear (perfect for glass like this!) and it doesn't foam or expand. So for a small fix like this one, the Clear Gorilla Glue was exactly what I needed.
Not only does it bond glass, it bonds wood, stone, metal, ceramic, foam, and more. This formula works both indoors and outdoors, and it's really easy to dispense from the bottle (which is not true of all glues!). Here's how I fixed my dessert plate!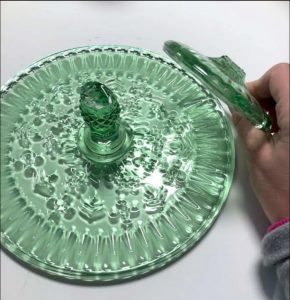 Step One: I made sure everything is clean and dry, and added Clear Gorilla Glue to the stem.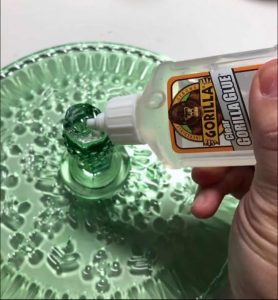 You don't need a lot of glue, but enough to cover the area.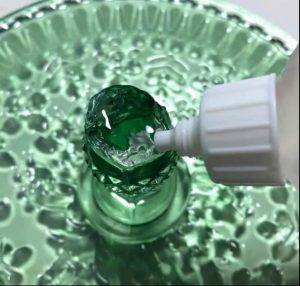 Step Two: I secured the stem back to the plate and wiped away the excess glue that came out the sides.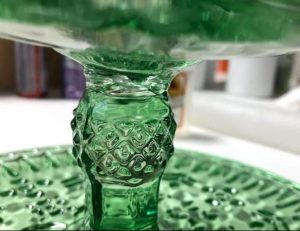 Step Three: I set my dessert plate top down on a hard, flat surface. You can clamp or place a heavy item on top to keep everything secure. I used a small, heavy book.
After 24 hours, my dessert plate is fully secure and ready to use. I can even hand wash it again!