GORILLA SUPER GLUE BRUSH & NOZZLE: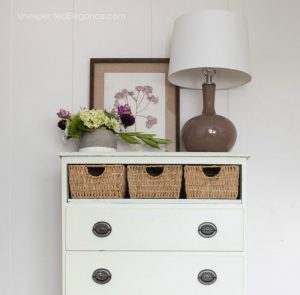 I found this dresser about 10 years ago at a thrift store and it was in pretty rough shape.  They were selling it for a dollar because it was missing a drawer, so I thought I would give a second chance!
I brought it home and used some leftover paint to update the finish and spray painted the handles.  Then I added a piece of plywood in place of the missing drawer to create a shelf.
Our house has absolutely no storage, so I have used it in my daughter's bathroom for towels since I got it.  However…one of the drawers completely fell apart the other day.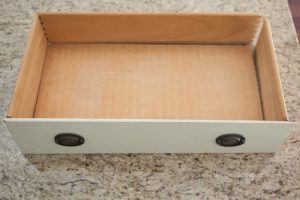 It was literally in 4 pieces!  I'm not ready to find a replacement, so I decided to just fix the broken drawer using Gorilla Super Glue Brush & Nozzle.
HERE'S HOW TO FIX A WOODEN DRAWER:
Start by laying it on a flat surface. (If the handles stick out a lot, you might want to remove them, too.)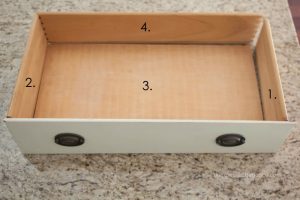 Then assemble it back together in the order of the picture above.  I found that it worked best if I attached the sides first, then the bottom and back.

To hold all the pieces together, I used Gorilla Super Glue Brush & Nozzle.
The reason I love this product is the 2 easy ways to dispense the glue! Gorilla Brush & Nozzle features a fine bristle brush that offers controlled coverage with less mess and the precision tip nozzle for quick, easy dispensing. The two choices of applicator allow you to easily control how much glue is applied – ultimately less mess!!
It can also be used on a wide variety of materials because it bonds to plastic, wood, metal, ceramic, rubber, leather, paper and more. (Although you might want to avoid anything that will go into the dishwasher.)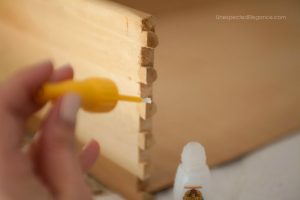 I started by adding glue to the notches on the front /face and side pieces.  I found it easiest to use the brush for edge to edge coverage. 
You will need to work pretty quickly because the glue sets in about 45 seconds.  I did this project on my own, but a second set of hands would work best.  However, you don't need clamps for this super glue to work!
Once you have a fair amount of glue, reattach the sides to the face of the drawer.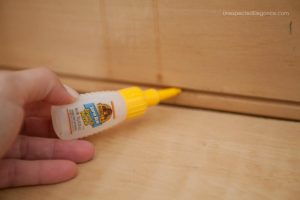 Then add a bead of gorilla super glue inside the track on those three sides.

Slide the bottom into the track and make sure it's snug.
The nozzle is ideal for this step because it offers a thicker, more controlled application.  The bottle also has an anti-clog cap!
Follow the same step for the notches on the back piece and carefully attach.
HERE ARE SOME TIPS I LEARNED ALONG THE WAY FOR HOW TO FIX DRAWERS ON AN OLD DRESSER:
It's best to stand the drawer up on it's face.  Gravity helps hold it together.

A square comes in handy as you are attaching the sides.  It helps you keep the drawer in line as you work on the back.

Two sets of hands are ideal!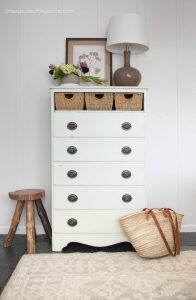 One last thing about Gorilla Super Glue is that it is reinforced for increased impact resistance. They call it Impact-Tough® because the reliable bond stands up to wear and tear.
You can find it at most hardware and home center stores nationwide.