Learn more about Gorilla Tape, the strongest tape ever! I used it to hang an outdoor light, without using nails. See what I did here!
Our neighbors are renters, and their landlord has strictly forbid them to drill any holes. And won't hang a light for them!! Therefore any lights that they hang have to be semi-permanent. Our neighbors can touch up paint, but no holes. So now you see what I'm getting at? They gave us the challenge!!
And we immediately knew what we were going to try: Gorilla Tough & Clear Mounting Tape.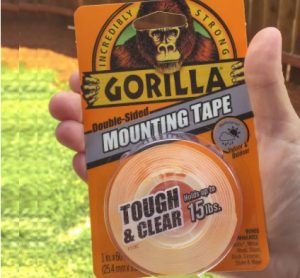 Have you heard of this product? It's a crystal clear, double-sided tape that sticks to both smooth and rough surfaces, and can be used both indoors and outdoors. The bond is long-lasting and weatherproof, and we figured hanging a light would be the perfect time to try it.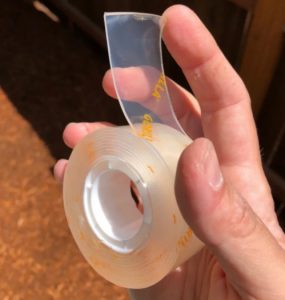 Hang an Outdoor Light
When you are removing the Gorilla Tough & Clear Mounting Tape from the package, do it carefully. It really sticks! You'll want to make sure your hands are washed and you are ready to go when you remove the tape – because it doesn't come to play.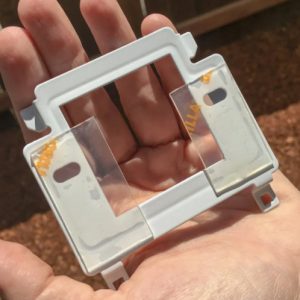 We took two pieces of the Gorilla Tough & Clear Mounting Tape and stuck it on either side of the mounting plate. This tape works with a lot of plastics, metal, wood, glass, brick, ceramic, stone, and more.
The only place is really doesn't work is on wallpaper, delicate surfaces, and some PP plastics. In this case, our mounting plate was metal. The tape stuck very quickly – so you'll want to make sure it's in the right location before pressing it down.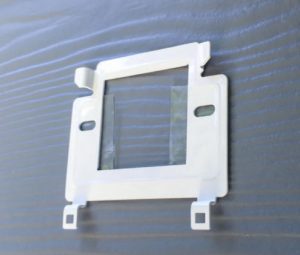 After that you're going to remove the strips on the top of the tape. If you don't have long fingernails, use a craft knife or tweezers to help you grab a corner.
Then you're going to make sure the surface is dry and relatively clean (just wipe away loose dirt). Then press down firmly. This Gorilla Tough & Clear Mounting Tape REALLY STICKS!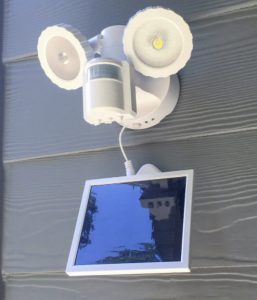 How to hang an outdoor light
After we taped up the lower, solar bracket, we also used the Gorilla Tough & Clear Mounting Tape to place the upper light plate as well. The Gorilla tape holds up to 15 lbs*, though our neighbors' light was probably 2 – 3 at the most. (*Weight limits may vary depending on surface texture, porosity and flatness of surface. Both surfaces must be completely flat to make full contact with adhesive.)
My neighbors' light is pretty cool as its solar powered and also has a motion detector. This tape formed an instant, long-lasting bond with the siding and is completely weatherproof! And you can imagine how much rain we get here in the lovely Northwest!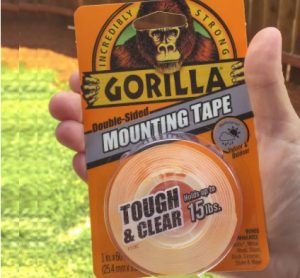 Gorilla Tough & Clear Mounting Tape
I'm happy that my neighbors were able to add a light and that we were able to help them do so. I can't take all the credit though . . . this Gorilla Tough & Clear Mounting Tape is pretty amazing. What would you hang with this product?