Most of the time I post about the pretty changes and updates I have made to my house since we moved in 3 years ago. Today I am going to show you an easy "fix" on one section of the exterior of my house that just can't seem to stay undamaged.
When we first moved to the house, the driver of the moving truck backed the truck into the gutter over the garage. It made a big dent and crack in the gutter.  He felt so bad about it, but the company paid to have a new gutter installed.
All was good in gutter land until I was painting the garage door a few weeks ago (will share that with you soon) and I noticed that water was dripping down on my head as I painted on the left side of the door. When I looked up to investigate, I could not believe I saw a dent and small crack in the gutter in the same area the moving truck had damaged the gutter.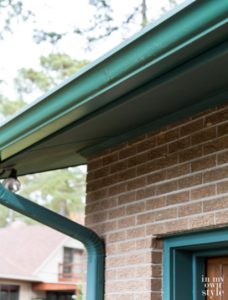 Crack in a homes gutter
Since the gutter was replaced, I knew the new dent and crack just couldn't reappear like a fantom stain on a carpet that keeps reappearing even after you removed it. I knew this could not be the case, since it was completely replaced before. I realized that a delivery truck driver must have hit the gutter… again!…and didn't realize it or they did and left. 🙁
My house has a long driveway with an area next to the house that a car can turn around in. A truck can, but it is a little tight. The delivery drivers don't have the time to walk down the driveway so they drive down and turn around.
In the spring, one of the drivers was backing up and hit a basketball back board and hoop across from the garage.  It fell to the ground and broke.
I did manage to bend the gutter back into shape, but a dent and small crack could not be fixed where water has begun to drip when it rains hard like it has this fall.  Until now…
Gorilla Glue Waterproof Patch and Seal Tape
Gorilla Waterproof Patch and Seal Tape instantly seals out water, air, and moisture. With an extra thick adhesive layer and UV resistant backing this tape conforms to form a permanent bond indoors and out. At 4″ wide it can patch holes, cracks, gaps and tears, even underwater. Excellent for Home, Auto, Marine, Camping, RVs, Outdoors, and my poor gutter.
Prop your ladder securely against your house so that you can reach inside your gutter.  The tape could be attached to the outside of the gutter, but since it is waterproof, I chose to attach it inside the gutter where it would be hidden.
Consider having a helper keep your ladder in place while you are on it.
Remove any debris, pine needles, twigs  and/or leaves in the gutter. Make sure the area inside the gutter where the drip or leak is clean and dry.
How to use Gorilla Glue Waterproof Patch and Seal Tape
Step 1: Keeping liner on tape, cut tape to desired size. Tape size should be larger than the repair area, extending beyond all edges.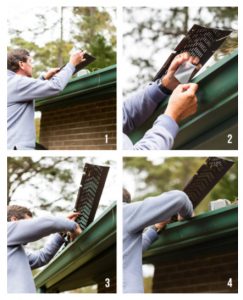 How to fix a crack or leak in a gutter.
Step 2. Remove the release liner.
Step 3. Place tape over desired repair area. Tape cannot be repositioned once applied.
Step 4. Rub entire surface of the tape aggressively with hand, especially the edges.
That's it!  The tape is:
WATERPROOF WORKS UNDERWATER
Can be used INDOORS or OUTDOORS
INSTANTLY SEALS OUT WATER, AIR, & MOISTURE
2X MORE TAPE COMPARED TO 5 FT. FLEXIBLE TAPES
and
IT CREATES A PERMANENT BOND
Now that I know how to use the tape, I think I may see if I can fix the leak in one of the air mattress beds we use when we have a houseful of guests.